Do not be deceived into thinking every day is "blog worthy", picturesque or interesting. I am just about as normal as they come, but I do find it ironic that the thing I enjoy most on other people's blogs are the stories they share. As much as I share on this blog, I rarely tell a story. So here goes......
Early one morning at Glacier I lay awake in our tent. I could tell it was still early, but I was eager to start the day. I felt around the tent trying to find something which would tell me the time. Finally determining it was four am, I sat up in my sleeping bag. After a few minutes of sheer boredom, I peered out the tent. I could see the night sky quickly changing to day. I was restless and eager to get the day going. Being the annoying early riser on vacation, I impatiently gave Cameron another hour of sleep. Come five am Cameron arose and we made our way down to Lake MacDonald.
When we arrived at the lake, guess what? Not a lot of people like to wake up that early while on vacation, which meant we had the shoreline to ourselves. The air was crisp and we were downright cold. We only had a thin tent wall to keep in the heat last night and we were beginning to feel it. As I snapped away Cameron patiently stood by my side. I believe he resumed this pose to keep his face warm, or because he was feeling camera shy.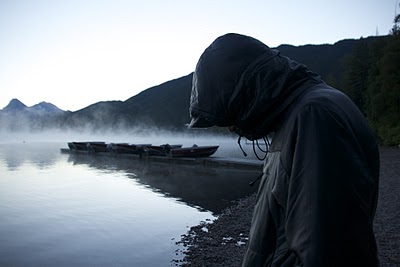 Either way, I was happy the sky was becoming increasingly brilliant and more importantly I was getting some great shots. As I was in my element; an older gentleman with some pretty hefty photography equipment set up approximately twenty feet from where we were standing. We said our pleasantries and found out he was from Atlanta. Pretty soon he made his way over to us and offered to take our photograph. I was excited, by the looks of his equipment he appeared to know what he was doing. As soon as he popped the flash on my camera, my hopes were dashed. Maybe I could edit it into a great photo was my next thought. We thanked him for taking our picture and we both resumed snapping away at the lake.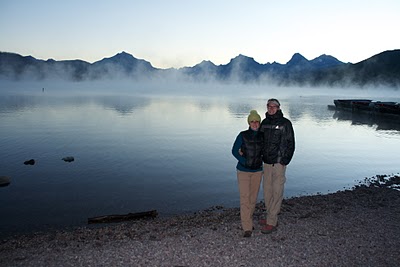 Our over exposed photo taken by Mr. Atlanta.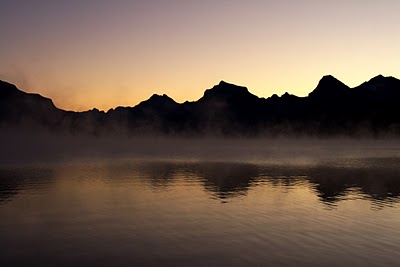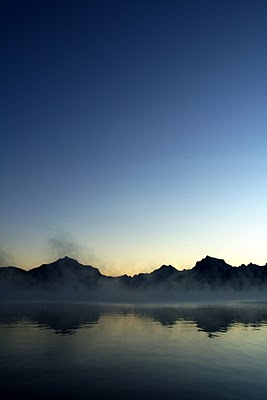 A little while later, Mr. Atlanta (as we will call him) approached us again, but this time he said, "Let me help you out." Okay, not sure where he is going with this, but alright.
He told us to sit down. Taking into consideration the fact we were standing on a cold, wet, rocky beach. We both decided to squat.
He was not having any of it. He told us to sit down again.
Feeling a little stupid we sat down.
He then proceeded to tell us "no, no, you sit here and you sit between his legs" Oh boy, we both thought. What had we gotten ourselves into?
As we sat on the cold, hard, rocky beach in a prom like sitting position it was hard to not let my mind wander about what others might be thinking.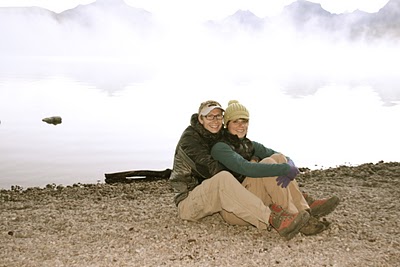 Then my favorite part of all was when he told us to look at each other. Oh boy! Even in my wildest dreams I do not think I would have guessed this was going to happen. As Cameron smiled at me and I smiled at him, we were more or less laughing at what an awkward situation this was. For a moment I felt very self conscious, but then I realized this is just something we can laugh about again and again.