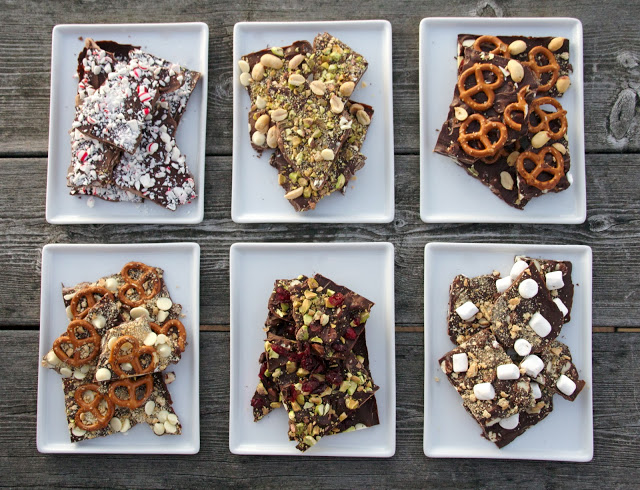 For the past several years, Cameron and I have taken on the task to create gifts for Cameron's clients. Food, (inevitably sweets) seems to be the best choice to give to such a wide array of people. Instead of spending hours baking, I was able to produce a couple of sheets of bark in just an hour. I saw the idea to make several different kinds of bark in one batch and quickly got to work.
To make the chocolate bark you will need:
- good quality chocolate chips or bars
- mix-ins (dried cranberries, pistachios, pretzels, candy cane, white chocolate chips, peanuts, marshmallows and crushed graham crackers)
Melt the chocolate slowly over a double boiler. Once fully melted, spread out over a cookie sheet covered in parchment paper/tin foil. While still warm, sprinkle with mix-ins of your choosing including the white chocolate if you want the swirl effect. Let harden completely at room temperature and then break up by hand.
Bark types from top left to bottom right:
1. Peppermint 2. Pistachio and Peanut 3. Peanut and Pretzel 4. Pretzel, Peanut, White chocolate and Graham Cracker 5. Craisin and Pistachio 6. Graham Cracker and marshmallow.