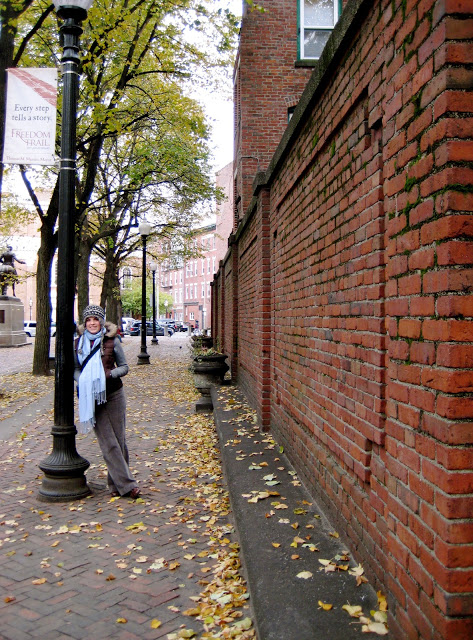 Me in Boston, November 2008
As I ran through the park today, I intently watched two coast guard ships flank the ferry. It reminded me of how interconnected the world is. The recent tragedy in Boston has the ability to cause a ripple of fear and increased security around the world. Coast guard ships escort ferries while armed guardsmen stand watch over the Eiffel Tower. I find it easy to feel sad and disturbed by the news. On my run I did my best to formulate how I might personally honor the victims in Boston. As my feet hit the pavement, my thoughts turned towards the marathon runners. Runners by nature, appreciate, push and demand much out of their bodies. These are the the kind of people who do their best to fuel their bodies properly, allow them to rest and ask the upmost out of them day after day. I know many people who would scoff at the idea of running six miles, let alone twenty six. A triumphant, celebratory time turned into a time of panic, pain and heartache.
I have spent the past twenty years of my life as a runner. I run to burn calories, to alleviate stress, for fun and as a means of transportation. I have maintained the motto, "I will run today because I can" throughout my life. My heart aches for all those people who have lost limbs because I know what it is like to feel the need to run. The need to run is as necessary as breath for some.
We live in a society which encourages us to fuel our body with junk or worse yet lead a sedentary life. In honor of all the victims in Boston I would encourage each and everyone of you to head out on a run, a walk, a hike or a bike ride and take a few moments to truly appreciate your limbs. They work hard for you each and everyday whether you realize it or not. The human body is amazing, so I will do my best to appreciate how it carries me up mountains, walks me along streets and allows me to run, run and run.