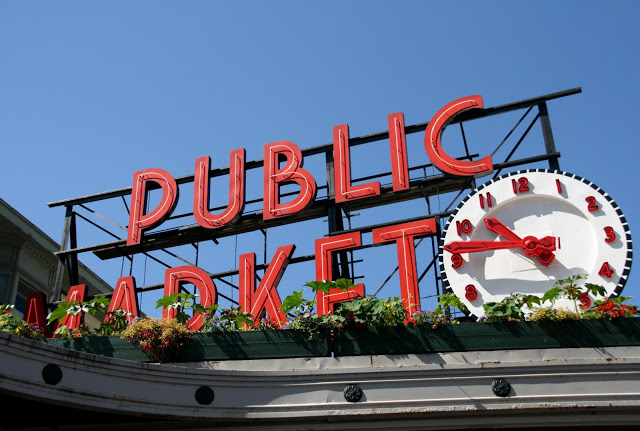 One sunny Saturday morning, we met our group at the Market Theatre to begin our Savor Food tour of Pike Place Market. Although I have been to Pike Place Market numerous times before, I was excited to see what new things I might learn about the market and what new foods I might try. Our tour commenced with a little history of the market and then onto our first stop was Daily Dozen. There is nothing quite like a hot, fresh donut smothered in cinnamon and sugar to get your day off to a good start.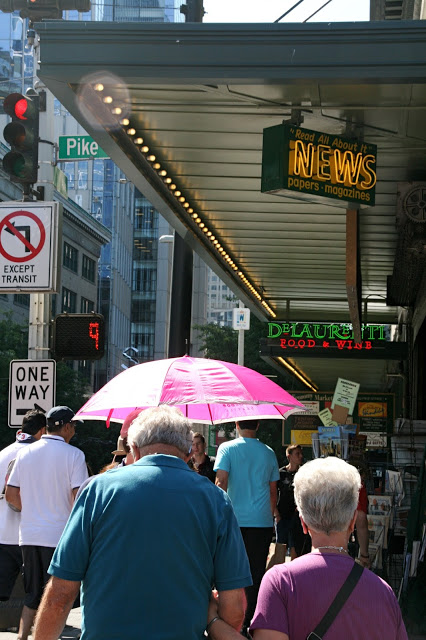 After our donuts, we headed to Market Spice to sample some delicious alder smoked salt, the infamous Pike Place Fish Market for smoked salmon, Pike Place Chowder for chowder and bisque, Chukkar Cherries for cherries and cherry salsa, Beecher's for cheese and crackers, Frank's Produce for donut peaches and cherries, Piroshky Piroshky for sweet and savory piroshky and then Etta's for crab cakes. Amazingly enough, I had never been to Piroshky Piroshky, Market Spice nor Etta's before.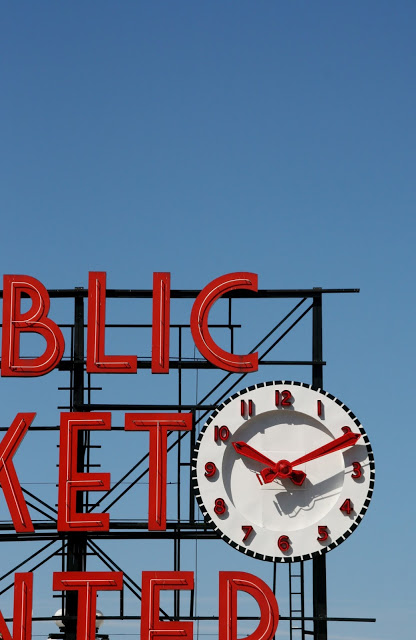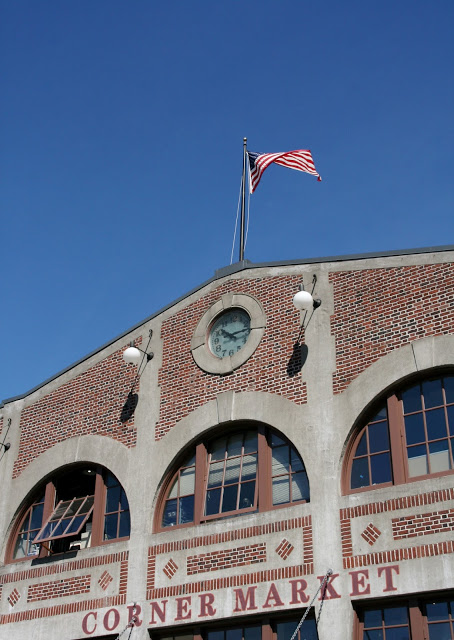 Our tour guide was good natured, fun and witty and the two hours seemed to fly by. We dutifully followed the pink umbrella around a bustling market and thoroughly enjoyed the delicious sampling of foods we were able to try. I learned so many new things that day, from how Rachel the Pig saved the market to how Frank's Produce is in its fourth generation of Franks to how another vendor saved Piroshky Piroshky from ruin. We heard stories of community, resilience and left with a feeling of hometown proud.
Now is your chance to win a 2 hour Savor Food Pike Place Market Tour. Simply leave a comment stating where your favorite place in the market is or if you have never been where you are most excited to visit. All entries must be made by Friday, July 19that midnight PST. The winner will be randomly selected and announced on Monday, July 22nd.